New website for Developing Human Connectome Project launched

We have launched a new website for our Developing Human Connectome Project funded by an ERC Synergy Grant. You can visit the website here.
BioMedIA in the BBC news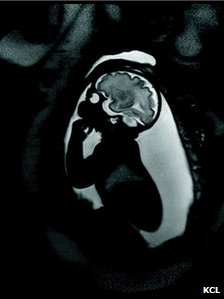 "UK scientists have embarked on a six-year project to map how nerve connections develop in babies' brains while still in the womb and after birth. By the time a baby takes its first breath many of the key pathways between nerves have already been made. And some of these will help determine how a baby thinks or sees the world, and may have a role to play in the development of conditions such as autism, scientists say.
But how this rich neural network assembles in the baby before birth is relatively unchartered territory.
Researchers from Guy's and St Thomas' Hospital, King's College London, Imperial College and Oxford University aim to produce a dynamic wiring diagram of how the brain grows, at a level of detail that they say has been impossible until now..."
Full article available here.
ERC Synergy Grant Awarded

Professor Daniel Rueckert from the Biomedical Image Analysis (BioMedIA) Group, in conjunction with colleagues Professor David Edwards and Professor Joseph Hanjal from King's College London and Professor Steve Smith from the University of Oxford, has been awarded a prestigious new ERC Synergy grant that promote partnerships in academic research. Entitled 'The Developing Human Connectome Project' (dHCP), this project will use MR imaging to track brain connectivity in foetuses and newborn children, providing insights into neuropsychiatric conditions such as autism. Professor Rueckert has received a €3,250,000 share of a €14,974,313 grant.
Launched this year as a pilot, the Synergy grant scheme allocates up to €15m over six years for projects aimed at enhancing collaborations between lead researchers whose complementary skills, knowledge and resources can realise results that would not be possible if they were working alone.
The ERC received 710 applications for Synergy grants and have funded only 11 projects across the EU, which represent the top 1.5 per cent of proposals.
More details about the project can be found here.
New EPSRC/AMR healthcare partnership grant awarded

EPSRC and Action Medical Research have awarded a £1.1M healthcare partnership proposal to our group and our colleagues at Hammersmith Hospital. The aim of this project is the creation of tools and algorithms that enable the detection and diagnosis of abnormal brain development based on high-resolution magnetic resonance imaging (MRI) information. More about the project can be found here.